Cardiff Theosophical Society in Wales, UK
Please click here for Current Theosophical Events in Cardiff
Welcome to the Cardiff Theosophy Homepage Theosophy - The Ageless Wisdom of Life
Cardiff Theosophical Society
206 Newport Road,
Cardiff, Wales, UK, CF24 - 1DL.
Email:- theosophycardiff@uwclub.net
Events Information Line
029 2049 6017
Please click here for
Cardiff Theosophical Society
Promoting Theosophy since 1908
_________________________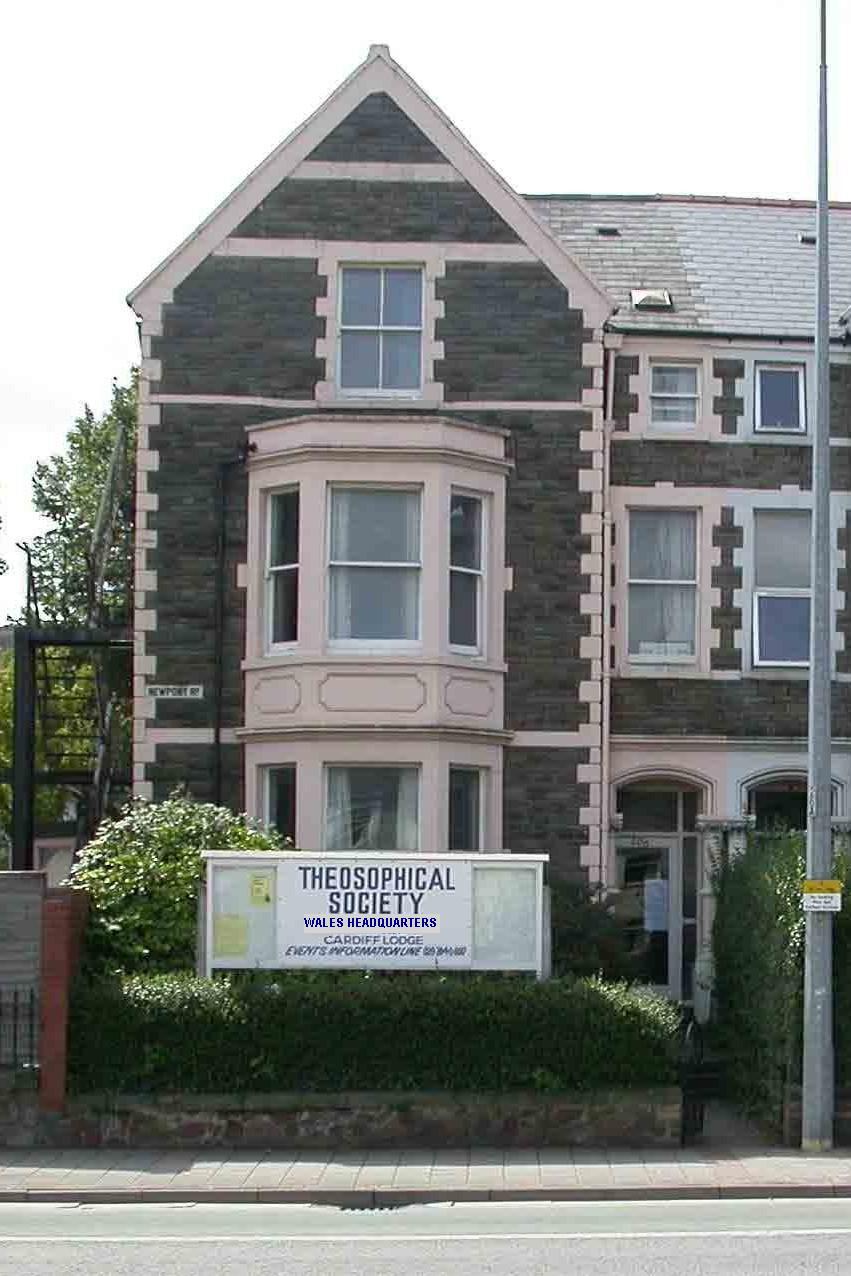 Theosophy House
Headquarters of Cardiff Theosophical Society
WHAT WE DO
Cardiff Theosophical Society
Mission Statement
The dominant and core activity of Cardiff Theosophical Society
is to promote and assist the study of Theosophical Teachings
as defined by the writings of Helena Petrovna Blavatsky,
William Quan Judge, Alfred Percy Sinnett and their lineage.
This Mission Statement does not preclude non Theosophical
activities but these must be of a spiritual nature
and/or compatible with the Objects of the Society.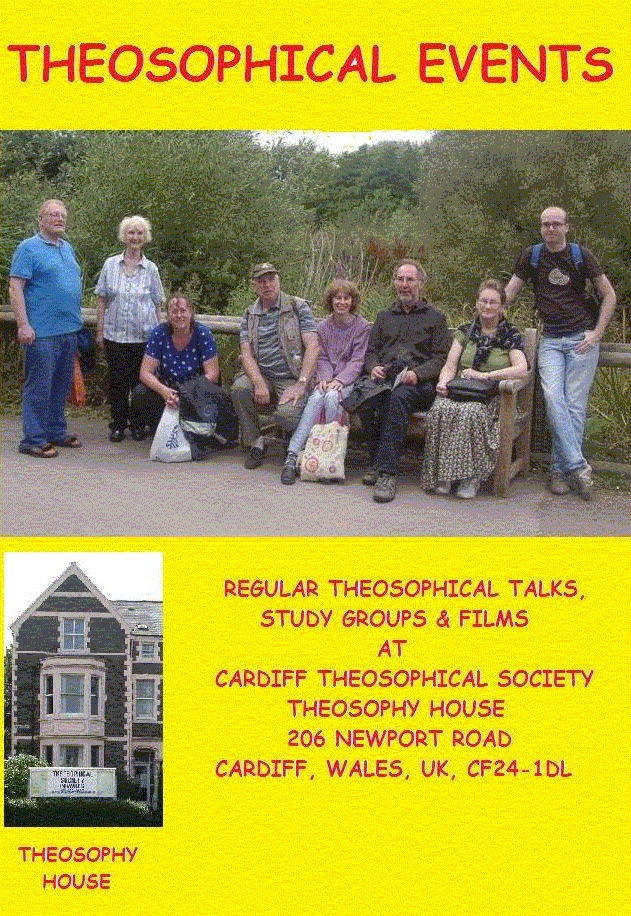 Please click here for Current Theosophical Events in Cardiff
Regular lectures, study groups and workshops covering all aspects of Theosophy. The study group meets regularly and is intended to provide a basic introduction to Theosophy. A collection is taken to cover cost of materials/refreshments.
No previous knowledge of Theosophy is assumed and newcomers are welcome.
Other events taking place at Cardiff Theosophical Society include talks on subjects of esoteric and spiritual interest, meditation groups, Sanskrit Mantra Chanting and Huna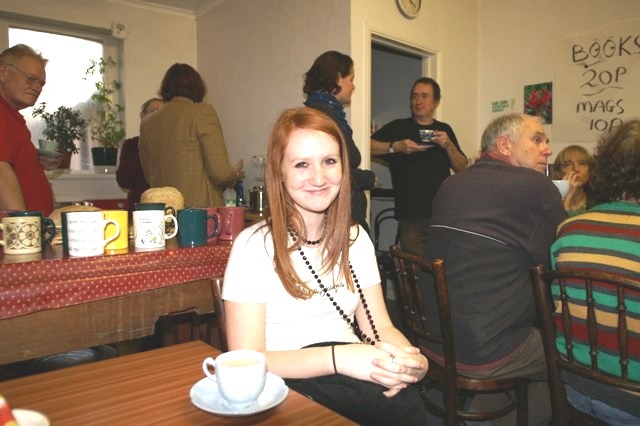 Cardiff Theosophical Society meetings are informal
and there's always a cup of tea afterwards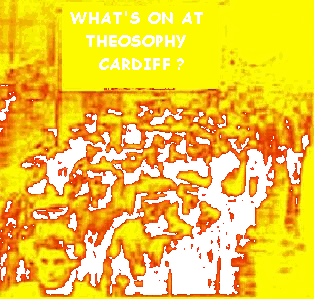 Members promoting Theosophy in the
days before we had the Internet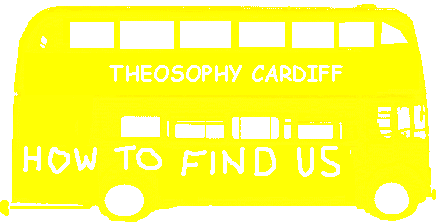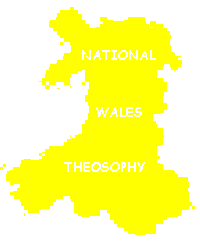 The National Wales Theosophy Website
Contact info for other Theosophical Groups in Wales
Theosophy Links in the UK and Worldwide
A One Minute History of Cardiff
___________________________________________________
OBJECTS OF THE THEOSOPHICAL
SOCIETY
1. To form a nucleus of the Universal Brotherhood of Humanity without distinction of race, creed, sex, caste or colour.
2. To encourage the study of Comparative Religion, Philosophy and Science.
3. To investigate unexplained laws of Nature and the powers latent in man.
__________________________________________________
WHAT IS THEOSOPHY ?
The word Theosophy is derived from the Greek THEOS (god) and SOPHIA (wisdom)which can be translated as Divine Wisdom, Wisdom Religion or in the modern interpretation as Ageless Wisdom. The word Theosophy has been in use for centuries.
Theosophy examines the underlying elements of basic wisdom or thought of various religious teachings that have been important in the development of humankind. This examination does not seek to draw anyone away from the religion that he or she belongs to, but to give a rational explanation and interpretation of the inner meanings of the creeds and ceremonies of religion.
Theosophy is not a religion since is has no dogma, creed, or ritual.
Outline of Basic Principles of Theosophy
Article: Theosophy Defined by William Q judge
Article: Is Theosophy A Religion ? by H P Blavatsky
Article: An Outline of Theosophy by C W Leadbeater
_______________________________________
NEW TO THEOSOPHY?
You've certainly come to the right place even if you
don't live in Cardiff or even in Wales
Here's loads of FREE Introductory Theosophy Stuff
to get you started or help your group.
Dave's Streetwise Theosophy Boards
If you run a Theosophy Study Group,
please feel free to use any material on this site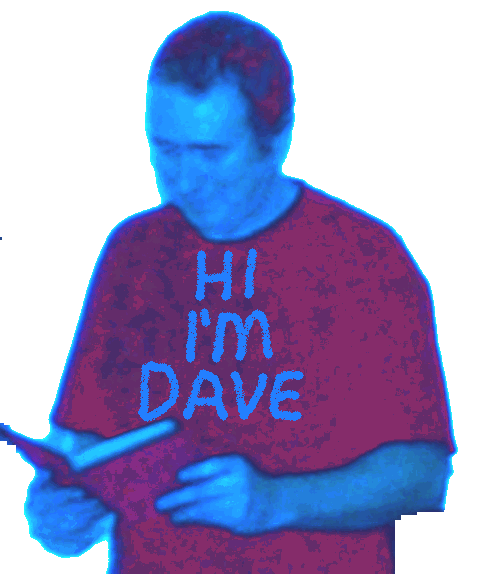 For a quick overview of Theosophy
you can try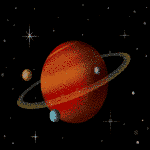 The Most Basic Theosophy Website in the Universe
If you run a Theosophy Group you can use
this as an introductory handout
______________________
Classic Introductory Theosophy Text
A Text Book of Theosophy By C W Leadbeater
What Theosophy Is From the Absolute to Man
The Formation of a Solar System The Evolution of Life
The Constitution of Man After Death Reincarnation
The Purpose of Life The Planetary Chains
The Result of Theosophical Study
An Outstanding Introduction to Theosophy
By a student of Katherine Tingley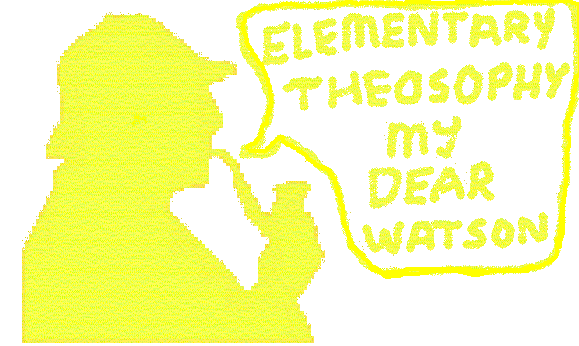 Elementary Theosophy Who is the Man? Body and Soul
Body, Soul and Spirit Reincarnation Karma
_____________________________________________________
HISTORY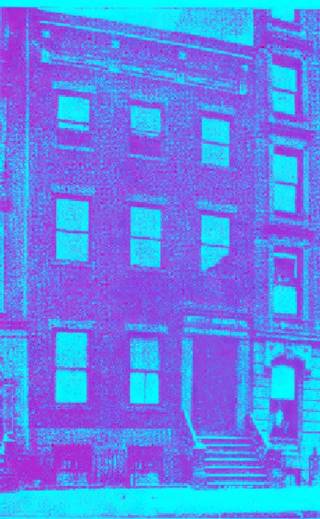 This is where it all began
The Mott Memorial Hall, New York
on November 17th 1875
The first Theosophical Society was founded in New York on
November 17th 1875 by Helena Petrovna Blavatsky,
Colonel Henry Steel Olcott, William Quan Judge and others.
The Theosophical Movement now consists of a diverse range of
organizations which carry the Theosophical Tradition forward.
Cardiff Theosophical Society is an independent body
within the Worldwide Theosophical Movement
and has been promoting Theosophy since 1908
More info on the History of the Theosophical Society
The Theosophical Society gets off the Ground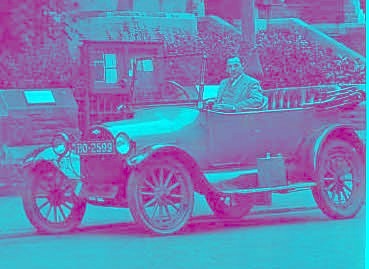 Pioneering Cardiff Theosophist Peter Freeman in an impressive
motor outside earlier Headquarters at Park Place, Cardiff circa 1919.
Try parking there now!
Explanation of the Theosophical Society Emblem
__________________________________________________
SOME OF THE BIG NAMES
OF THEOSOPHY
The Co-Founders
H P Blavatsky, Colonel Olcott and W Q Judge are acknowledged
as the Co-founders of the Theosophical Society in 1875.
Others were involved at the time but these are the
Theosophists who stayed with it and developed both
Theosophy and the Theosophical Society.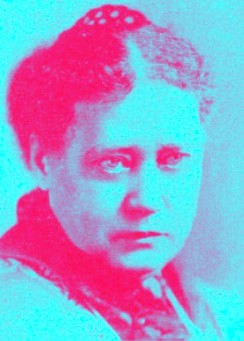 Helena Petrovna Blavatsky
H P Blavatsky by Colonel H S Olcott
Her Teachers Morya & Koot Hoomi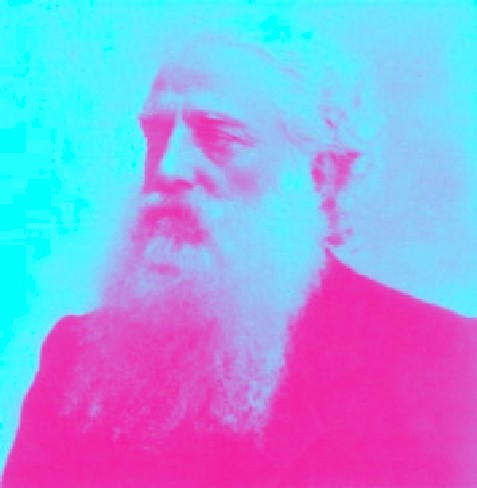 Colonel Henry Steel Olcott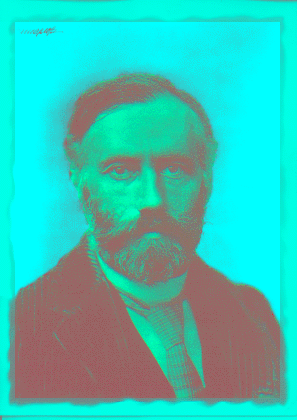 William Quan Judge
OTHER LEADING THEOSOPHISTS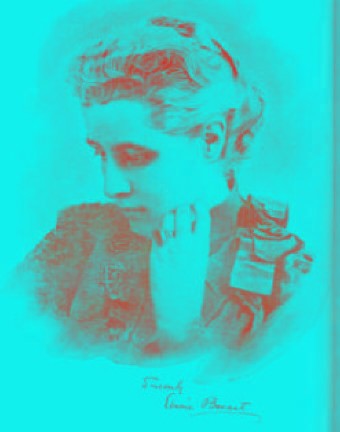 Annie Besant
Annie Besant Visits Cardiff 1924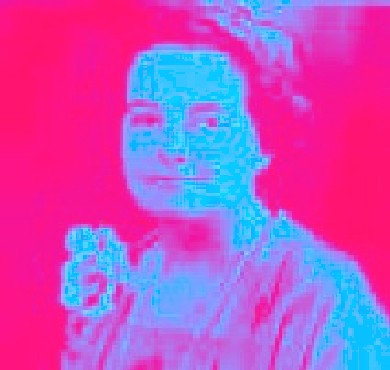 Alice Bailey
_______________________________________
Theosophy Cardiff's Gallery of Great Theosophists
OTHER THEOSOPHICAL WRITINGS
AND INFORMATION
Selection of H P Blavatsky's writings
Selection of William Q Judge's Writings
Selection of Annie Besants's Writings
A B C D EFG H IJ KL M N OP QR S T UV WXYZ
Complete Theosophical Glossary in Plain Text Format
1.22MB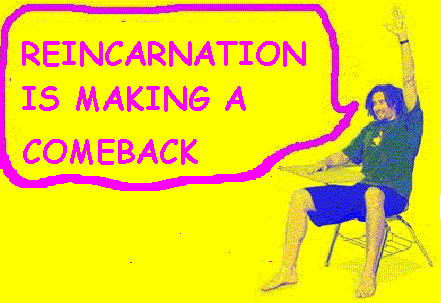 Theosophy Cardiff's Instant Guide to Theosophy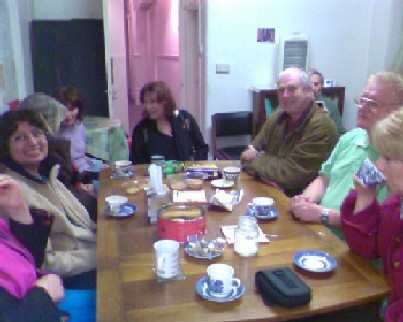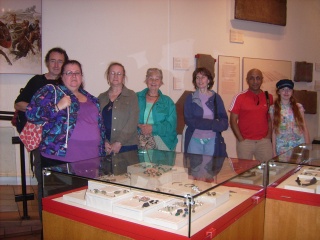 Cardiff Theosophists visiting Caerleon Museum
_________________
Preface Theosophy and the Masters General Principles
The Earth Chain Body and Astral Body Kama – Desire
Manas Of Reincarnation Reincarnation Continued
Karma Kama Loka Devachan Cycles
Arguments Supporting Reincarnation
Differentiation Of Species Missing Links
Psychic Laws, Forces, and Phenomena
Psychic Phenomena and Spiritualism
________________________
An Outline of Theosophy
Charles Webster Leadbeater
Theosophy - What it is How is it Known?
The Method of Observation General Principles
Advantage Gained from this Knowledge
The Deity The Divine Scheme The Constitution of Man
The True Man Reincarnation The Wider Outlook
Death Man's Past and Future Cause and Effect
_______________________________
Karma Fundamental Principles Laws: Natural and Man-Made The Law of Laws
The Eternal Now Succession Causation The Laws of Nature A Lesson of The Law
Karma Does Not Crush Apply This Law Man in The Three Worlds Understand The Truth
Man and His Surroundings The Three Fates The Pair of Triplets Thought, The Builder
Practical Meditation Will and Desire The Mastery of Desire Two Other Points
The Third Thread Perfect Justice Our Environment Our Kith and Kin Our Nation
The Light for a Good Man Knowledge of Law The Opposing Schools
The More Modern View Self-Examination Out of the Past
Old Friendships We Grow By Giving Collective Karma Family Karma
National Karma India's Karma National Disasters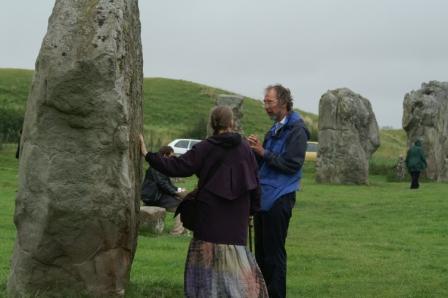 Is this stone made of Polystyrene?
Cardiff Theosophists examine an Avebury Standing Stone
___________________________

British Troops attack on The Somme
Theosophical Writings on the Great War
The First World War produced considerable
Theosophical Literature, both during and after the event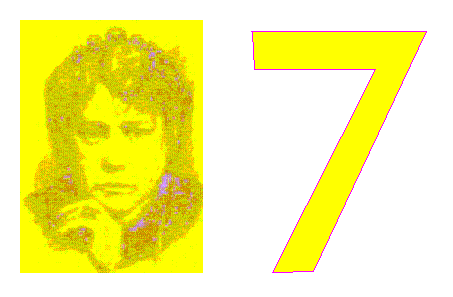 Theosophy and the Number Seven
A selection of articles relating to the esoteric
significance of the Number 7 in Theosophy
One liners and quick explanations
<![if !vml]>
<![endif]>
Blavatsky Calling; And I Don't Wanna Shout
The Voice of the Silence Website
It's all "water under the bridge" but everything you do
makes an imprint on the Space-Time Continuum.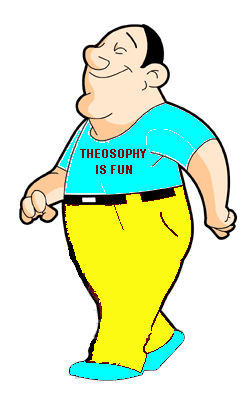 The main criteria for the inclusion of
links on this site is that they have some
relationship (however tenuous) to Theosophy
and are lightweight, amusing or entertaining.
Topics include Quantum Theory and Socks,
Dick Dastardly and Legendary Blues Singers.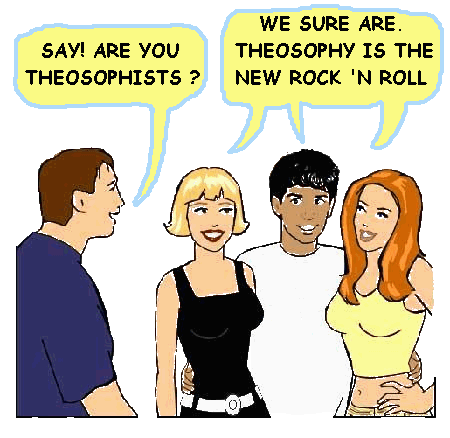 An entertaining introduction to Theosophy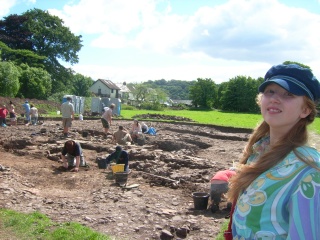 At the Dig
We visited Cardiff University Archaeological Dig
during our outing to Caerleon.
Two very knowledgeable archaeologists
gave us a guided tour of the site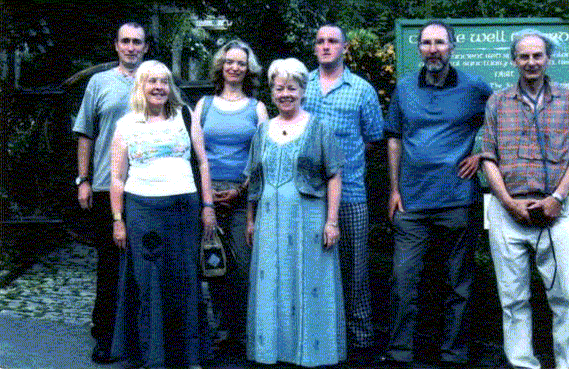 Cardiff Theosophists outside Chalice Well, Glastonbury in July 2005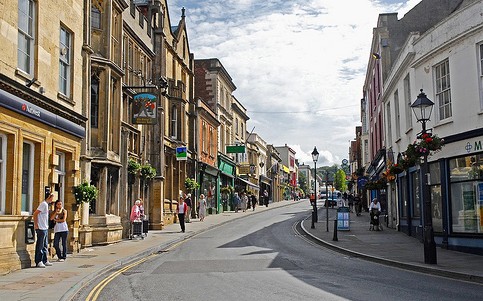 Glastonbury High Street
Glastonbury, Somerset, England.
Glastonbury is a great favourite with Cardiff Theosophists
The Theosophy Cardiff Guide to
The Theosophy Cardiff Guide to
The Theosophy Cardiff Guide to
The Terraced Maze of Glastonbury Tor
Glastonbury and Joseph of Arimathea
________________________
The National Wales Theosophy Website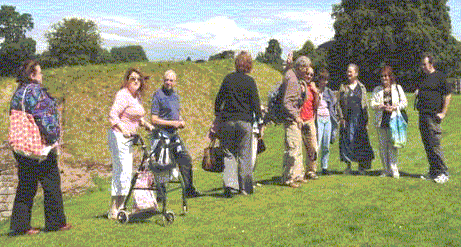 Cardiff Theosophists at the Roman Amphitheatre, Caerleon.
Caerleon, Gwent, Wales.
This is for everyone, you don't have to live
in Wales to make good use of this Website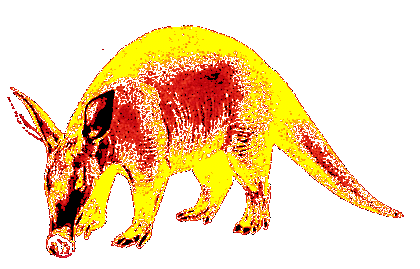 No Aardvarks were harmed in the
The Blavatsky Wales Theosophy Group
in the 3rd Millennium
The National Wales Centre for Theosophy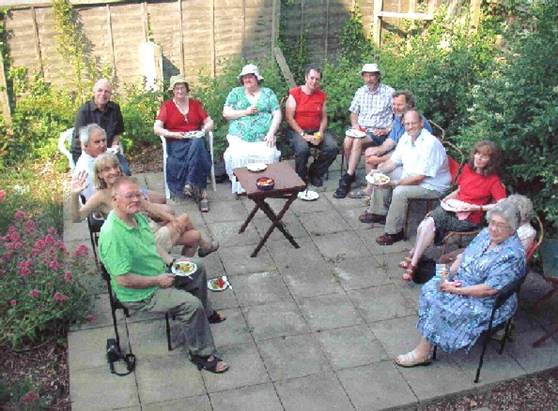 Good weather for the Theosophy Cardiff 2006 Garden Party
The Spiritual Home of Urban Theosophy
The Earth Base for Evolutionary Theosophy
The Birmingham Annie Besant Lodge
The Salt Lake City Theosophy Group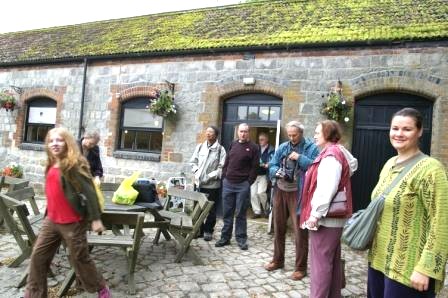 Cardiff Theosophists at the Café in Avebury, Wiltshire.
__________________________
Starting a Theosophy Group
Your Own Theosophy Group Starts Here
A Guide to starting your own Theosophy Group
& of course you don't need to live in Wales
to take advantage of this guide
___________________________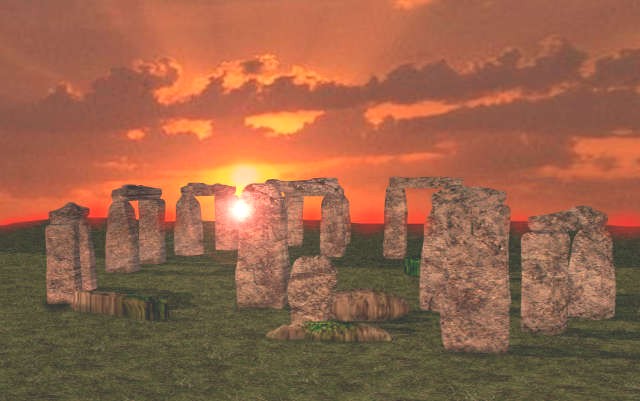 Stonehenge, Wiltshire, England
Lentil burgers, a thousand press ups before breakfast and
the daily 25 mile run may put it off for a while but death
seems to get most of us in the end. We are pleased to
present for your consideration, a definitive work on the
subject by a Student of Katherine Tingley entitled
The Theosophy Wales Website that
Theosophy Cardiff Nirvana Pages
Tekels Park, Camberley, Surrey, England GU15 – 2LF
Article describing Tekels Park and its much
cherished wildlife by Theosophist and long
term Tekels Park Resident Madeleine Leslie Smith
Escritas Teosóficas da Lingua Portuguese
Escrituras Teosóficas en Español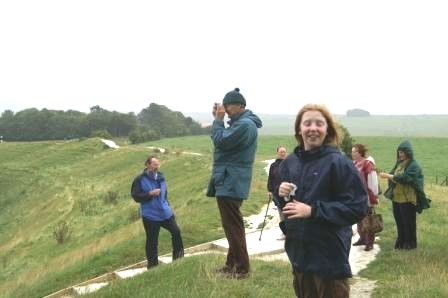 A wet and windy day as Cardiff Theosophists tour the
Standing Stones at Avebury
Please click here for Current Theosophical Events in Cardiff
Please click here for Current Theosophical Events in Cardiff
Please click here for Current Theosophical Events in Cardiff
Link Exchange Web & Blog Directory of Top Sites Dmegs.com
SEO friendly web directory of top sites & blogs organized by topic
into categories and presented according to relevance of website.